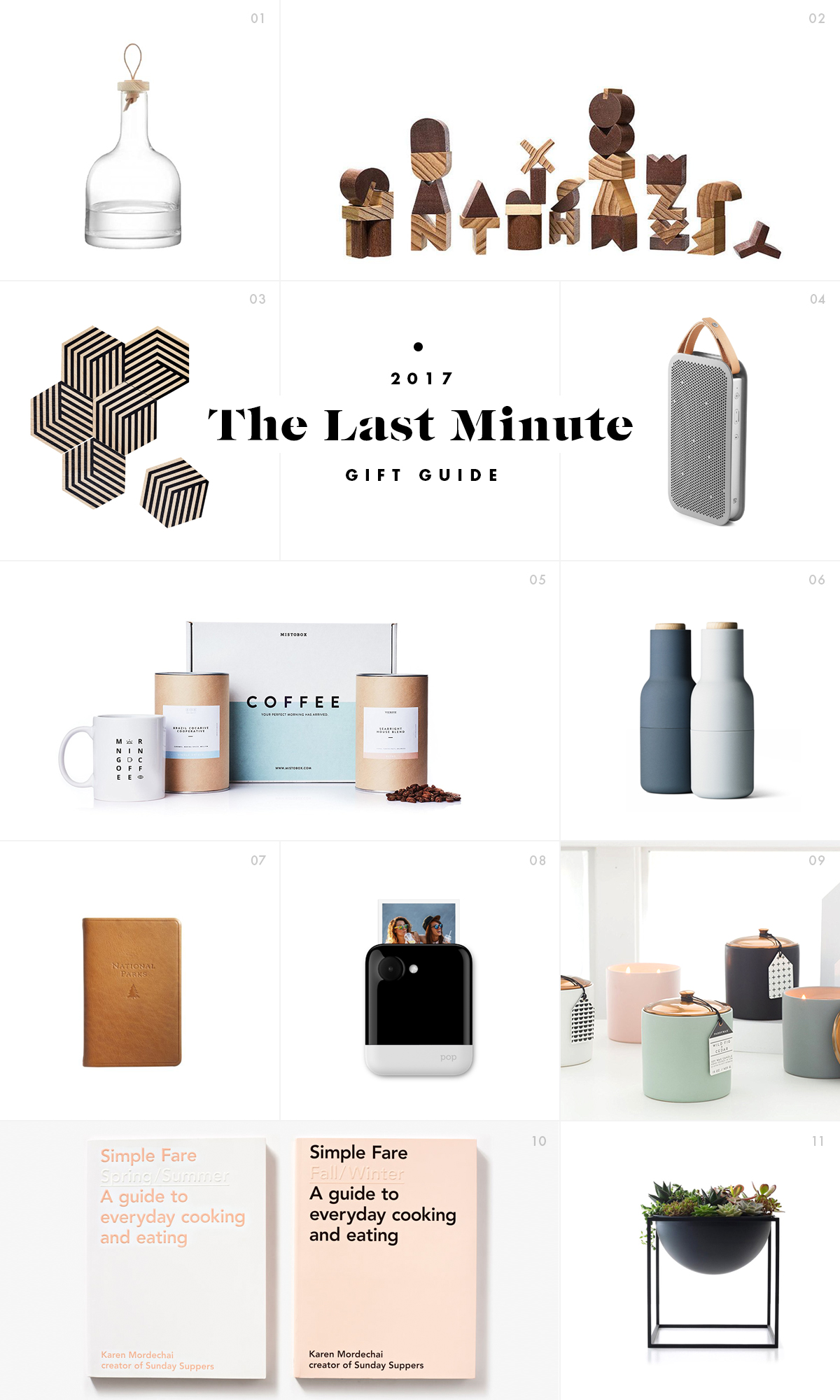 I'm a bit embaressed to admit how many Amazon boxes arrive on our doorsteps each week. With Amazon Prime – two day shipping is almost as good as getting it in store that day, especially when you're feeling lazy. With the amount of Amazon shopping we do I thought it would be handy to put together a gift guide for those of us who are Amazon Prime members.
1. LSA International Ivalo Water Carafe // Bedside water carafe
2. Areaware Alphabet Blocks // Good for kids or adults with an eye for design. Playful but also could be used for displaying.
3. Table Tiles // Mosaic tiles for building or use them as coasters.
4. Bang & Olufsen Beoplay A2 Portable // Definitely more of a splurge for your favorite pal – but this portable speaker is a beauty. If you're looking for something similar but cost effective we have this Jambox!
5. MistoBox Coffee Lovers Artisanal Whole Bean Coffee Beans & Mug Gift Box // We all have a friend who is obsessed with coffee!
6. MENU Salt and Pepper // We recently added this to our kitchen and it's absolutely beautiful.
7. U.S. National Parks Guide & Journal // For your outdoor loving friends – this leather National Park Guide journal will surely please.
8. Polaroid POP 3×4″ Instant Print Digital Camera // If you have anyone in your life who loves to take photos – this instan printer will allow them to take their digital photos to print.
9. Paddywax Hygge Collection // A nice smelling candle make a great gift for those ladies you're not sure what to get.
10. A Simple Fare Beautiful cookbook for all seasons.Fall and Winter and Spring and Summer or gift them both.
11. Modern Metal Cube Planter // You know I love my plants here is a planter you can get them in two days.