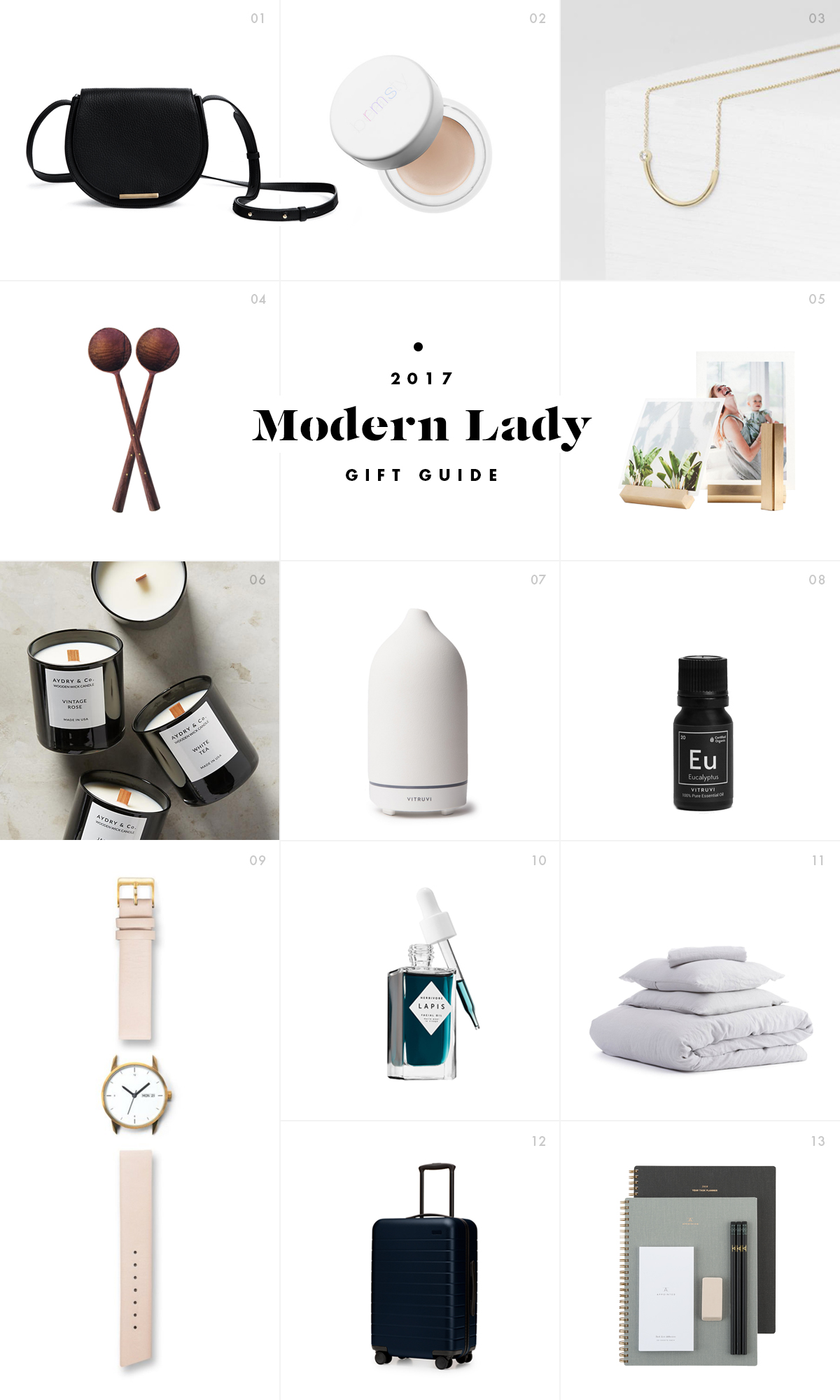 When it comes to gifts and gift giving – it's important that I'm giving something that isn't only meaningful but useful. I'm the girl who will ask for tupperware! I've rounded up some of my favorite well loved items plus a few highly recommended by some gal pals of mine. Hope you find these useful for someone on your list!
1. Cuyana Mini Saddle Bag // Cuyana maker of beautiful premium essentials. Their totes are part of my everday essentials and this saddle bag is now too!
2. RMS Magic Luminizer // A small magic pot of luminizer! RMS uses non toxic ingredients. This Magic Luminizer is a universal color perfect for every skintone.
3. Still House Anu Necklace // Love this Anu Necklace by Still House a maker of some of my favorite simple jewelry.
4. Four Leaf Woodshop Walnut and Brass Spoon from Morningtide // Beautiful handmade walnut and brass spoon perfect for the Hostess.
5. // Geo Rail & Prints from Artifact Uprising Upload your favorite photos to have the guys over at Artifact Uprising print a collection for your friends and family to display. I love the simple but elegant geo rail for any sidetable or desktop.
6. Aydry & Co. // Huge fan of this LA based brand – the candles are handcrafted in LA with a natural wooden wick they are long lasting and smell wonderful!
7. Vitruvi Stone Diffuser // The most beautiful diffuser you will ever own. Not only does our house smell wonderful the diffuser is like a small art piece for the home (ps also available in black).
8. Vitruvi Eucalyptus Oil // My all time favorite scent to use with my diffuser. These blends are awesome too!
9. Tinker Watches // Well made – beautiful modular watches – Y has one and I always want to steal it from him!
10. Herbivore Botanical Lapis Facial Oil I've been told by friends this facial oil works miracles – it aids in reducing redness and clarifying the complexion. Made from all-natural ingredients, with an emphasis on ingredients that are plant-based, organic, and food-grade.
11. Parachute Linen Sheets // Soft and cozy linen sheets made of 100% European flax.
12. Away The Bigger Carry-On // Truely my favorite carry on bag. It's lightweight packs well and also has a build in battery for charging on the go!
13. Appointed Planner Not sure what is it but every lady I know has a thing for stationery and this set from Appointed is such a beautiful piece to add to any desktop.